About the Journal
Arts & Letters
is a nationally circulating literary journal at Georgia College, run by students and faculty of the MFA program in Milledgeville, Georgia. One of the premier journals of the Southeast,
Arts & Letters
attracts young, fresh voices as well as well established writers ...
read more
News and Updates
Arts & Letters Contributor John Sibley Williams' forthcoming poetry collection Scale Model of a Country at Dawn is set to release late January 2022 (Cider Press Review). Included in the … read more
The 2021 Unclassifiable Contest has ended, and a winner has been chosen by judge, Michael Martone! Winner: "ARMORY" by Helen Hofling The "author" is dead–no news there–but the "writer" and … read more
Arts & Letters Prize for FictionKaren Day, "The Cellar" "["The Cellar" is] a taut and wonderfully written story that uses the suspense of a looming natural disaster and the claustrophobia … read more
More News
Current Issue
Issue 43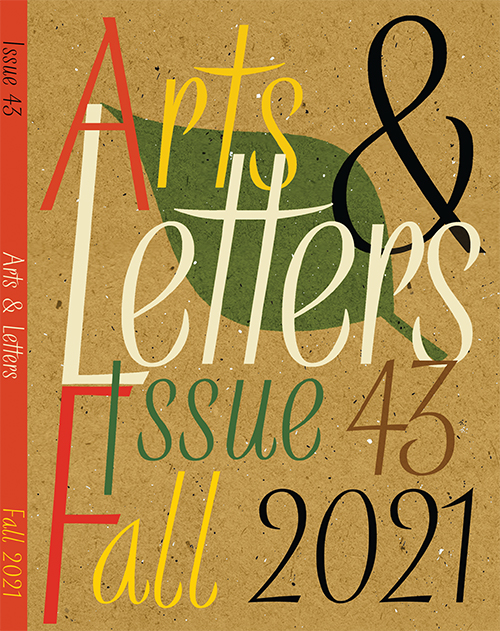 The Arts & Letters Spring Issue is now available for purchase! This issue features the 2021 Arts & Letters Prize winners.
Arts & Letters Reviews
West Branch is published tri-annually by Bucknell University's Stadler Center for Poetry & Literary Arts. The cover of their Winter 2020 issue features a piece titled Reckoning, by Cate White. In … read more
Volume XXXVIII Number 1, Spring 2018 The Chattahoochee Review, published by Perimeter College at Georgia State University, has been around since 1981 and publishes art, fiction, non-fiction, poetry, translations, and reviews. … read more
MFA-run The Pinch at The University of Memphis publishes prose (fiction and creative nonfiction), poetry, and art. This, the second issue of the 37th volume, comes covered in cool tones … read more
Featured Archives
On Emily Wolahan: Emily Wolahan is the author of the poetry collection HINGE. Her poetry has appeared in Boston Review, Georgia Review, DIAGRAM, Oversound, and many other publications. Her essay "The … read more
On Wes Civilz: Wes Civilz lives on a green hill in Vermont. He teaches writing at the community college level, and has recently gone back to school for computer coding. … read more
On Kristin Kostick: Kristin Kostick writes poetry and nonfiction, and is an anthropologist based in Athens, Greece. She received her MFA in nonfiction in 2015 from the University of Houston's creative … read more